Peonies in bloom...
These are my all time favorite flower.
Rug and Furniture...
I love ebay! These antique chairs were found during the restoration of the former mansion of the first Senator from West Virginia. (And no it wasn't Byrd!) $35 each. The rug was a "like new" for $85.
Green paint...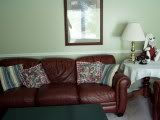 We finally got the family room painted. I'm still not sure I like the shade!