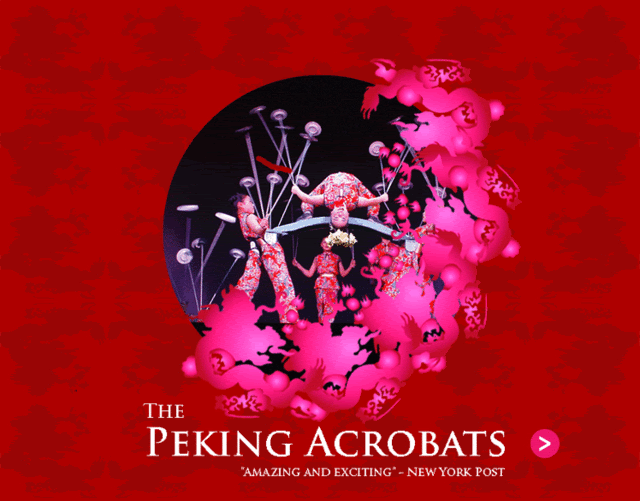 Last night dh and I attended a local fundraising gala. They hold it every year, but we have never gone. Mostly because the price per plate is enough to feed our family very well for a week. Last night we got to go for free because dh was asked to do some schmoozing. Not really one of the tasks of his job that appeals to him. I was excited, though, because I find this kind of event fun. The decorations, the entertainment, the food, the people watching...its all a fun change from my regular life routine.
Last night's theme was Chinese. The walls of the entry, halls and ballroom were covered in large oriental painted and solid green and red banners. There were a couple of enormous dragons, red and gold tinsel strewn on the ground and an entire hallway lined with live bamboo. Coconut shrimp, spring rolls, filet mignon, and real orchids garnishing the dessert. The
Peking Acrobats
performed amazing dances and stunts. The live auction sold packages worth up to $17k. With over 500 people, most dressed in fancy gowns and tuxedos, it was quite the event.
It really wasn't a place where I felt I truly belonged, however. I did not blend. And not just because I wasn't wearing a long, beaded, backless gown with my cleavage on display. Or because I was drinking water and cranberry juice instead of expensive wine and saki. The people I met were very nice and friendly, and a heck of a lot better at remembering my name than I was at remembering theirs. But the coming to be seen, to make connections, to network, to display. Not me. Not my world. I live in a world where I mop my own floor, change my own baby's diapers, paint my own nails and do my own taxes. Yes, we are raising 5 children without hired help. Crazy, I know! My day to day little world orbits no where near theirs. But, I love my world and wouldn't have it any other way. It was fun to visit their planet for an evening, though!
PS. Do you recognize the source of this post's title?